Martin Blank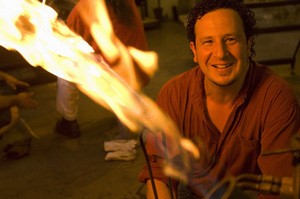 I chose Martin Blank, a glass blowing artist because I love glass blowing and have taken a glass blowing class here at Western that made my interest in glass blowing grow immensely. Martin Blank is a well known artist in the glass blowing community and is based in Seattle, Washington. Martin is known for his architectural glass installations but some of his newer work is what he calls visual mirroring. It deals with abstract forms and their spatial relationships. Martin Blank is one of my favorite glass blowing artists because he has such a unique way of installing his art pieces and really pushes the boundaries of what any glass blower has done in the past.
https://www.holstengalleries.com/martin-blank/
This article is a bibliography of Martin Blank and gives you a brief explanation of what Martin is inspired by and what he is capable of as a glass blowing artist. The article goes over some of Martins accomplishments and one of those accomplishments is his art being featured in the new World Trade Center.
https://www.schantzgalleries.com/martin-blank-biography
This article is another bibliography of Martin Blank, but goes more in depth about his personal life and the things he has accomplished over the years. Martin started out his career with the famous Dale Chihuly and was on his team for 11 years. Blank states, "It always intrigues me when the forms reveal a negative space that is as vital and potent as the actual objects. Great sculpture is like music, all you have to do is feel it"
I like this article of Martin Blank a lot because it has a portion talking about the artist and then an artist statement that goes in depth of how Martin thinks about his art pieces and his thought process when creating one of his glass sculptures. Also there is a time lapse showing the installation of Martins Crystal Reveal at the Friesen Gallery.